(Press play, then read.)
If you were emailed this page, you are on my 2019 Nice List.* Thank you for being wonderful to me and to others around me in 2019! (There are far more on the 2019 Nice List than I can invite of course; this event is limited by pragmatic realities…)
For the newbies: every year I treat some people who made my Nice List to an event that encourages all people to be nice to everyone, my favorite Christmas event in Austin: the Elf Movie Party at the Alamo Drafthouse.** To all of you, I say thank you for being wonderful, and I look forward to sharing this event with you. This event truly reminds one of the big picture of Christmas (giving, being nice, family/love, etc.) so it's especially fun with friends and family. This event will help you share and spread even more Christmas cheer throughout your lives in December!
This year we have an extra special event because my daughter Nicole will be the official emcee of the Elf Movie Party!
This year's event will be on Thursday, Dec 12 at Alamo Ritz at 7PM. I always choose the Alamo Ritz because Ritz cinema #1 is large and because people who go to special events at the Ritz really value the event (because getting to it and parking is a pain in the —). There are a couple of other reasons for choosing the Ritz as well, which I won't spoil for any newbies. We always go for an evening movie party (never a daytime event), only in December (never November), and later in the week (so people are less stressed about work). All of these factors ensure…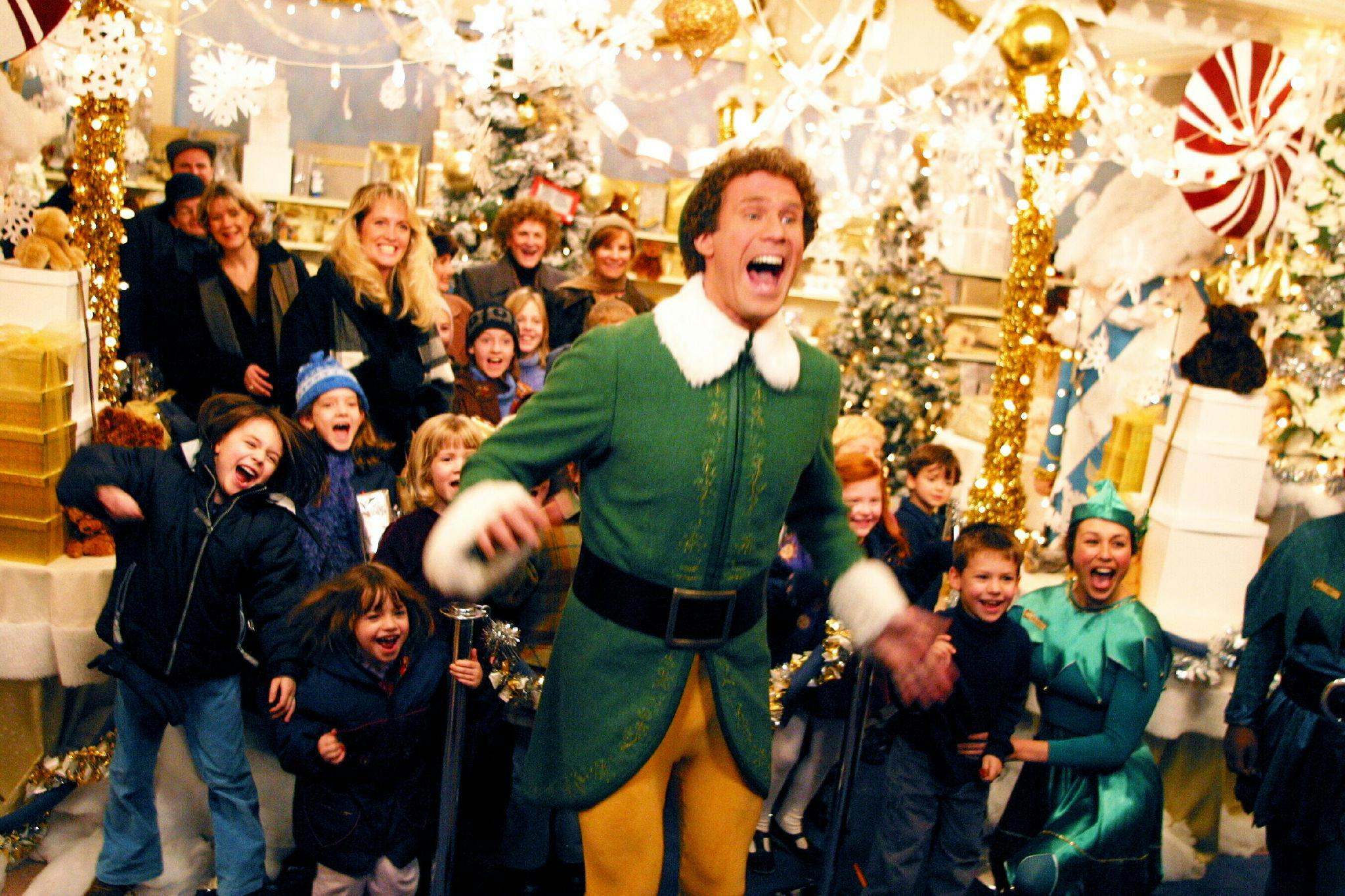 …maximum Christmas cheer!
While Buddy reminds us of the three rules of Christmas and we will adhere to those, we also have three additional event-specific requests for sustaining maximum Christmas cheer:
Please wear some form or Christmas attire (from ugly Christmas sweaters, elf garb, red and green clothes, funny Christmas t-shirts, etc.) if you have any (but don't sweat it if you don't).
Please show up early (no later than 6:45 inside the theater) so we can get everyone matched to a ticket and seat without stressing the host. (There are over 70 people spanning 4 rows.) Also, it makes it more Christmas-y to have some time together beforehand, so please join us at Iron Cactus next door if you get there before 6:45pm–some of us will be there at 5:00PM!
Please do not have conversations that lessen the experience for others around you during the movie! Quoting and singing along in the Elf Movie Party is encouraged, but don't be a cotton-headed ninnymuggins. Don't make me transfer you to the 2019 Naughty List. I'll call the Big Man if I have to.
Finally, if you have RSVPed but something comes up, please let me know about cancellations ASAP so I can allocate the tickets to someone else who will contribute to Christmas cheer (or perhaps needs some!).
I look forward to sharing this with you on December 12! I also hope you can come early and/or stay late for a drink as well!
---
*Some people may be on my Nice List, but on Santa's Naughty List. This event is based on my Nice List for 2019, but I hope you'll work your way back on to Santa's Nice List before Christmas.
**Please don't be offended (or 'politically correct'): I love Christmas for the spirit of giving and kindness, independent of any religious context–of which this movie has none. Well, actually, all of the Christmas symbols in "Elf" (Santa, elves, Christmas trees, etc) in the movie are from paganism, but the ideas of being nice and generous to each other are shared by every major religion!